Overtime Pain Relief Background
Meet Dr. Bennett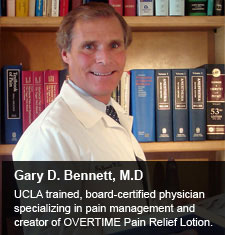 Overtime Pain Relief Lotion was developed by Gary D. Bennett, M.D., a medical doctor trained at UCLA and the founder of Physicians's Science and Nature, Inc. Dr. Bennett has more than 30 years of experience treating patients with conditions that result in acute and chronic pain. He was discouraged with the limited alternatives available to treat pain and found the existing options of oral narcotic, and non-narcotic medications to be mostly ineffective and associated with too many risks for his patients. As a result, Dr. Bennett searched for safer and more effective ways to deliver pain medication to his patients. Years of research and working with pharmacists and biochemists throughout California resulted in Overtime Pain Relief Lotion. Thousands of Dr. Bennett's own patients have used Overtime Pain Relief Lotion and experienced pain relief. Scientific studies have proven that Overtime Pain Relief Lotion is more effective than other topical products for relieving pain, improving function and improving mood. Overtime is manufactured in the USA by an FDA-Certified manufacturer with FDA-Approved ingredients and tested by an FDA-Certified laboratory. Click Here to Learn How it Works.
Dr. Bennett is highly respected in his field, with a medical degree from the University of California, Los Angeles, and as an author of several medical textbooks and valuable research journals. He is certified by the American Board of Anesthesiology, The American Academy of Pain Management, and is an Ambassador to the National Pain Foundation. After serving on hospital staffs such as Cedars Sinai Medical Center in LA, Memorial Hospital in Long Beach, USC County Hospitals in LA, and Western Medical Center in Santa Ana California, Dr. Bennett became one of the first physicians in Southern California to devote his practice exclusively to Pain Management.
The Story Behind Overtime Pain Relief
As a young man, I watched helplessly as my father, usually a very stoic man and a World-War II veteran, suffer with excruciating pain due to lumbar disc disease. After graduating from the UCLA School of Medicine 30 years ago, I began working with patients suffering with acute and chronic pain. Since then, I have treated over 30,000 patients. Like many physicians, I became very discouraged with the limited treatments available to help patients who suffer with legitimate painful medical conditions. In fact, the World Health Organization (WHO) has declared that untreated pain has become a world-wide health care CRISIS! Narcotics have never been enough and have many side effects. The adjunctive pain medications, while helpful, have not been the entire solution. In many patients, surgeries resulted disastrous complications. After extensive research, I developed Overtime Pain Relief Lotion. Overtime Pain Relief Lotion is made with a combination of pharmaceutical and natural ingredients that combine to provide powerful anti-inflammatory, analgesic, anesthetic properties. These powerful agents are blended with agents that are proven skin penetrant enhancers and made using a special process known as micro emulsification, so that the effective ingredients rush deeper into the aching tissue that needs it most. When my patients returned after using Overtime Pain Relief Lotion, glowing with relief, I realized that my efforts paid off. Most of my patients beg for more medication. Overtime Pain Relief Lotion has helped relieve patients' pain of a wide variety of medical conditions including neuropathic pain such as RSD, arthritic pain, pain due to tendonopathies, bursitis, myopathies, fibromyalgia, and chronic musculoskeletal pain due to degenerative joint disease or degenerative disc disease. Even, certain headaches such as tension headaches can respond to Overtime Pain Relief Lotion. Many other physicians have begun using and recommending Overtime Pain Relief Lotion to their patients. Nearly 90% of patients who used Overtime Pain Relief Lotion return and asked for more. Less than 1% of my patients have side effects such as a rash. I am very pleased to offer Overtime Pain Relief Lotion to you as another option for patients suffering with intractable pain.
Gary Bennett, M.D.
Board-Certified Anesthesiologist
Diplomat of the American Academy of Pain Management
Medical Director of Pain Management
Chapman Medical Center
Orange, California